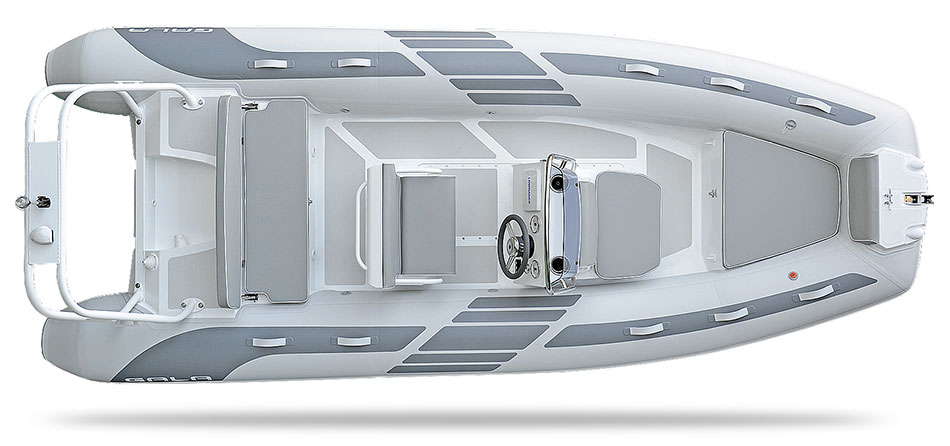 V500
VIKING V500 opens up a new extensive series of aluminum hull cruising RIBs, suitable for heavy sea conditions and high waves.
This model is 5 m (16'5'') long rated for 100HP engine, being the smallest RIB with 4-units cockpit configuration on a market. It features:
• Bow locker with cushion and seat back,
• Aluminum welded steering console with front seat,
• Aluminum captain seat with two storage compartments, three handrails and folding up seating,
• Wide rear seating with folding seat back and large rear storage compartment.
• Two rear walking platforms with motor well add a nice touch of comfort and safety.
The boat also offers some unique optional features, such as:
• Original GALA T-top with aerodynamically profiled framing.
• Heady-duty welded towing arch with two mooring cleats and waterski towing post.
These options transform this model into an excellent choice for watersports, family cruising or just comfortable, rough water boating.
The boat comes with two choices of tube material: either HYPALON, or VALMEX with nice selection of colors and original GALA styling.
DEEP-V ALU HULL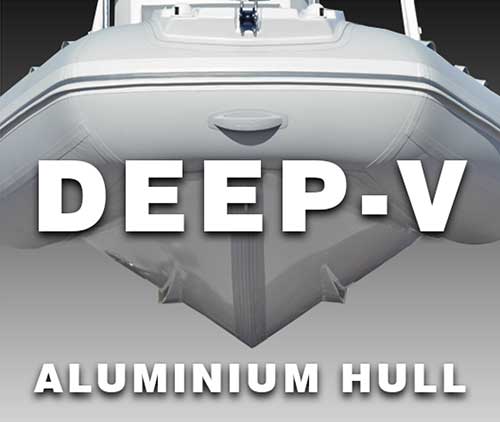 Aluminum welded Deep-V stepped hull of V500 makes it a real performer with exceptional seaworthiness.
BOW STEP PANEL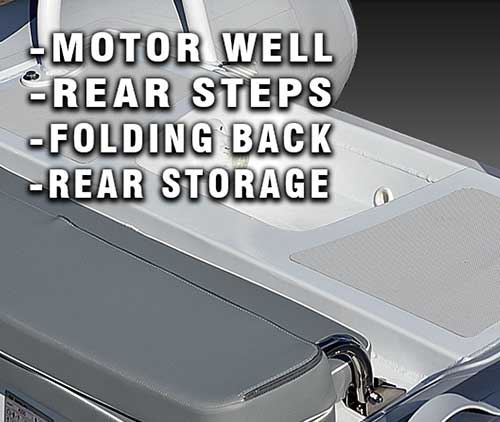 V500 rear part configuration is one of a kind design to make the boat comfortable and practical.
GALA TABS" hull design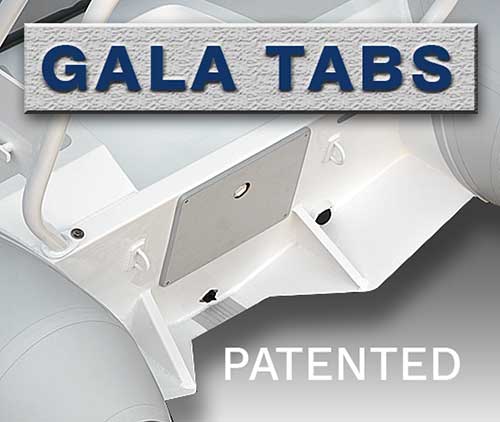 GALA Tabs are the feature created and patented by GALA. It significantly improve performance and let you get on plane as easy as no any other boat!
TWO ROWS OF SEATING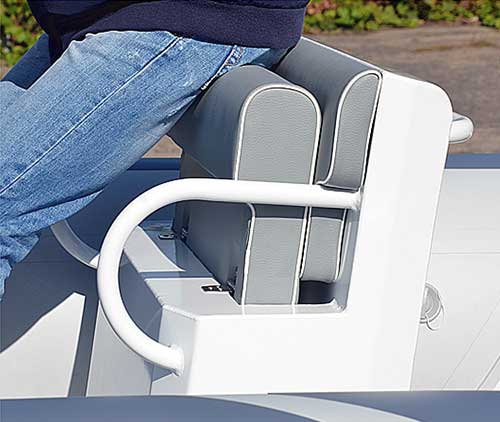 V500 seems to be the only boat in 5m range (16′) with not one, but TWO ROWS OF SEATING behind the console. This is the main magic of V500 design!
SELF-BAILING COCKPIT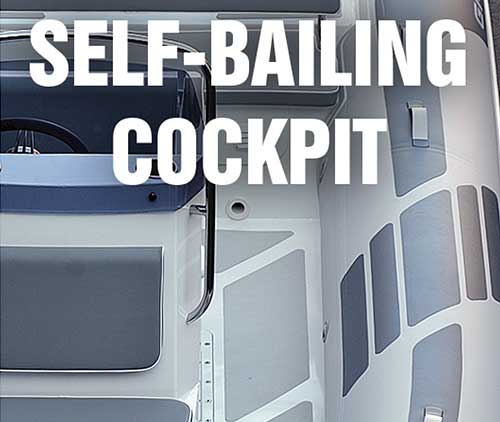 The boat cockpit is truly SELF-BAILING, so all the water drains out without any bilge pump needed.
STANDARD FEATURES:
Deep-V, powder-coated aluminum hull with motor well and rear compartment
«GALA TABS» transom system
Steering console C-04 with windshield, railing, front seat and seat back, steering system with wheel and cable
Driver seat S-04 with soft seat, folding back and roomy storage
Spacious bow locker with soft cushion
4 lifting eyes and 3 towing bow eyes
Bow handle and 10 safety grab handles
Soft curved 5-chamber Valmex or Hypalon buoyancy tube with rounded bow
Overpressure valve
Tough rubbing strake with splash guard
One-way drain system with plug
Two paddles, high-efficiency foot pump
Repair kit and manual
OPTIONAL EQUIPMENT:
Bow step plate with cleat, roller and soft seat back
Fuel system with 75L tank, filler, fuel send and fuel gauge
Electric package (includes navigation lights, bilge pump, horn, battery switch etc)
Towing arch w/ 2 cleats & tow eye.
T-top with top mounting plate
Overall cover
Console cover
Seat cover
Heavy 1400 g/sq.m PVC fabric upgrade
Tube protector package
SEADECK decking upgrade
SILVERTEX upholstery upgrade
Mechanical steering system with steering cable
Hydraulic steering system
Steering wheel GALA Deluxe GRAY
Waterski towing arch with 2 mooring cleats
Specifications
| Models | V500 |
| --- | --- |
| Length overall | 500 cm / 16'5″ |
| Length inside | 350 cm / 11'6″ |
| Width overall | 215 cm / 7'1″ |
| Width inside | 111 cm / 3'8″ |
| Tube Diameter | 52 cm / 20″ |
| Bare boat weight | 281 kg / 618 lbs |
| Loading capacity | 1000 kg / 2200 lbs |
| Passenger capacity | 9 |
| Number of chambers | 5 |
| Engine recommended | 80 HP |
| Engine MAX | 100 HP |
| Engine weight MAX | 180 kg / 396 lbs |
| Engine shaft length | 20″ (long) |
| Aluminum hull thickness | 4 mm / 1/6″ |
| Boat design category | C |
All technical data are subject to change without notice. The products details and specifications may be changed from specified herein. All the dimensions are + or – 3%. All the weights are + or – 10%
LIGHT GRAY / GRAY

Light gray tube
with  gray decor.
White hull.
(Default color)
WHITE / GRAY

White tube
with  gray decor.
White hull.
BLACK / GRAY

Black tube
with  gray decor.
Dark gray  hull.
CUSTOM COLOR

Some other colors for tube, tube decor and hull can be available on request. Check out availability with your Dealer.