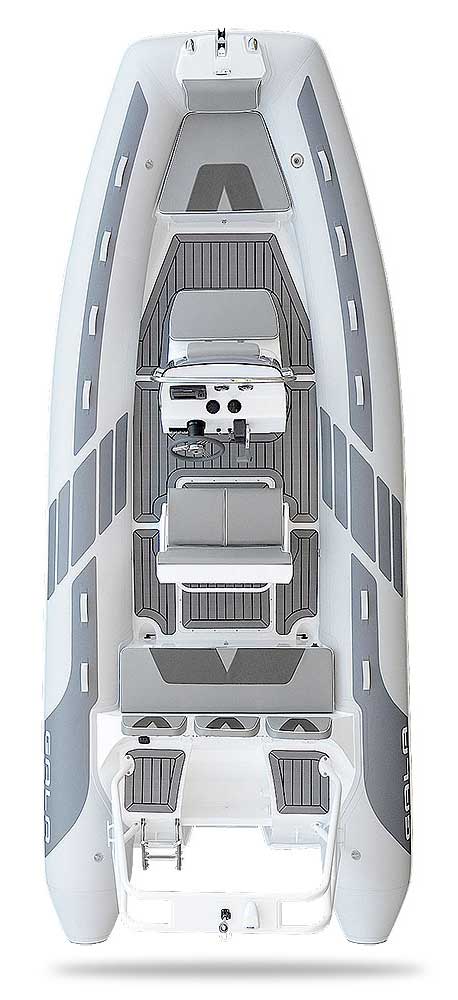 V580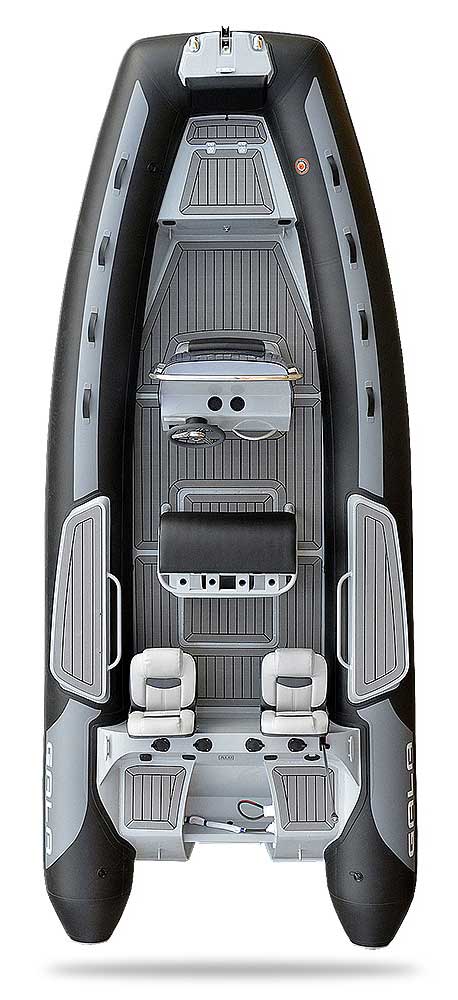 V580F – fishing
VIKING V580 is built for heavy seas and high waves. Cockpit space, performance and great features make these models unbeatable in its class.
Truly self-bailing cockpit makes this boat one of the most practical, maintenance-free and safe vessels in its class.
This model is 5.8m long (19') and has two versions:
• V580 – DELUXE version: boat with C-06 console with front seat, S-05 driver seat and large rear seat with 3 back supports, all built for comfortable recreational boating
• V580F – FISHING/PRO version: boat with C-07 console, S-06 bolster seat, a lot of free space at the front and at the back, with a number of options for expert level fishing and professional use.
You will enjoy well laid out cockpits and capacities of these great models, along with superior rigidity of GALA-ALU-TECH welded aluminium hulls!
"DEEP-V" ALU HULL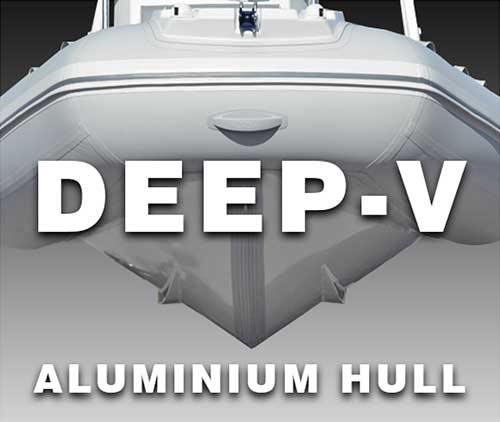 Aluminum welded Deep-V double stepped hull of V580 makes it a real performer with exceptional seaworthiness.
GALA TRANSOM EXTENSIONS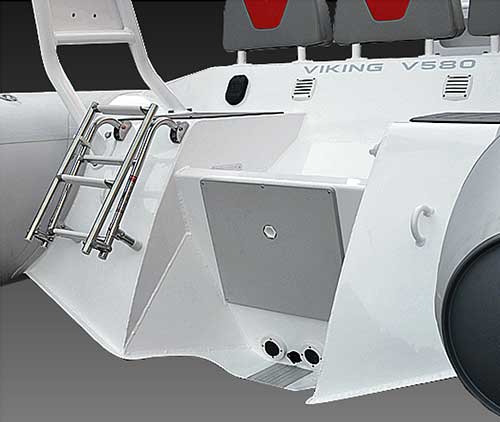 V580 rear part configuration with transom extensions is a great feature for easy and quick getting on plane and spray protection.
TWO SIDE WALKWAYS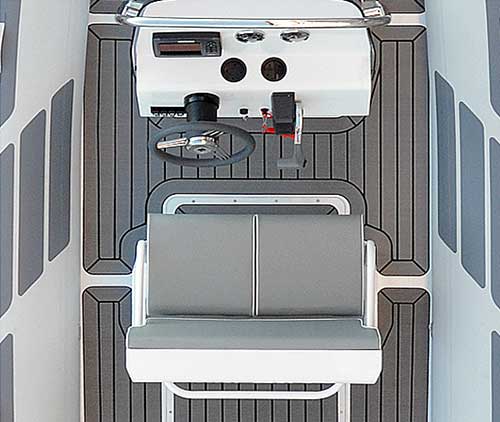 The boat is wide enough to provide walkways on each side of the boat for safety and comfort for everyone on board.
HIGH-PROFILE CONSOLE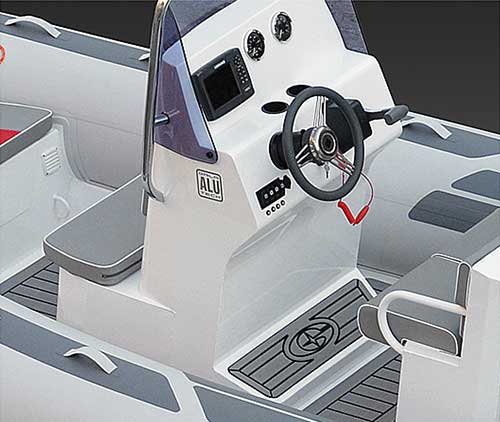 Aluminum welded high-profile console with two level dashboard and deck step is ergonomic and protective.
SELF-BAILING COCKPIT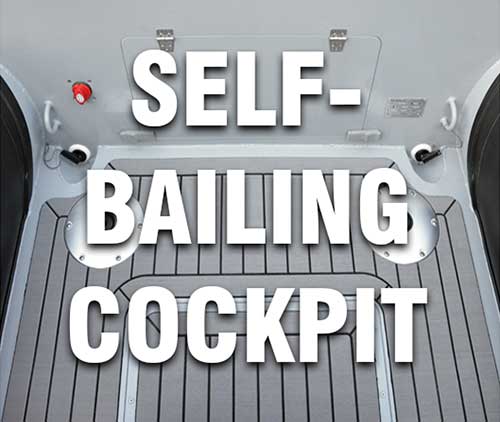 The boat cockpit is truly SELF-BAILING, so all the water drains out without any bilge pump needed.
STANDARD FEATURES:
Deep-V, powder-coated aluminum hull with SELF-BAILING cockpit, doubled drains, transom extensions, motor well, bow locker, keel guard
4 lifting eyes, 2 rear and 1 bow tow eyes
Soft curved 5-chamber Valmex or Hypalon buoyancy tube with overpressure valve, 12 handles and rubbing strake with splash guard
Two paddles, high-efficiency foot pump
Repair kit and manual
VIKING V580 Deluxe STANDARD FEATURES:
Steering console C-06 with front seat
Driver seat S-05 with 2 folding seats
Rear locker with with seat and back pads
Bow cushion
VIKING 580F Fishing/PRO STANDARD FEATURES:
Steering console C-07 with front seat
Bolster seat S-06 with 2 folding seats
Rear locker with access, no rear seats
OPTIONAL EQUIPMENT:
Bow step plate with cleat, roller and soft seat back
Fuel system with 100L tank and sender
Electric equipment package
Towing arch with 2 cleats & tow eye
T-top with top mounting plate
Overall cover, console/seat covers
SEADECK decking upgrade
Two side step panels with handles
Optional fishing equipment (talk to you dealer about additional fishing equipment).
Tube protector package
SEADECK Upgrade for 2 side step panels
SILVERTEX upholstery upgrade
Hydraulic steering system
Steering wheel GALA Deluxe GRAY
Steering console cover
Seat cover
Folding ladder
Fresh water shower system with 50 lit tank
Bow cushion (V580F)
Aerated life well with pump, tubing and wiring (V580F)
Two removable swivel seats with pedestals (V580F)
Wash down system with high pressure pump (V580F)
4 rear fishing plastic rod holders (V580F)
Recommended hydraulic steering system : "NAUTECH-1" made by ULTRAFLEX, Italy.
Specifications
| Models | V580 / V580F |
| --- | --- |
| Length overall | 580 cm / 19'0″ |
| Length inside | 470 cm / 15'5″ |
| Width overall | 250 cm / 8'2″ |
| Width inside | 130 cm / 4'3″ |
| Tube Diameter | 60 cm / 24″ |
| Bare boat weight | 462 kg / 1016 lbs |
| Loading capacity | 1500 kg / 3300 lbs |
| Passenger capacity | 12 |
| Number of chambers | 5 |
| Engine recommended | 120 HP |
| Engine MAX | 150 HP |
| Engine weight MAX | 250 kg / 550 lbs |
| Engine shaft length | 20″ (long) |
| Aluminum hull thickness | 4 mm / 1/6″ |
| Boat design category | C |
All technical data are subject to change without notice. The products details and specifications may be changed from specified herein. All the dimensions are + or – 3%. All the weights are + or – 10%
LIGHT GRAY / GRAY

Light gray tube
with  gray decor.
White hull.
(Default color)
WHITE / GRAY

White tube
with  gray decor.
White hull.
BLACK / GRAY

Black tube
with  gray decor.
Dark gray  hull.
CUSTOM COLOR

Some other colors for tube, tube decor and hull can be available on request. Check out availability with your Dealer.